Conventional Immunoassays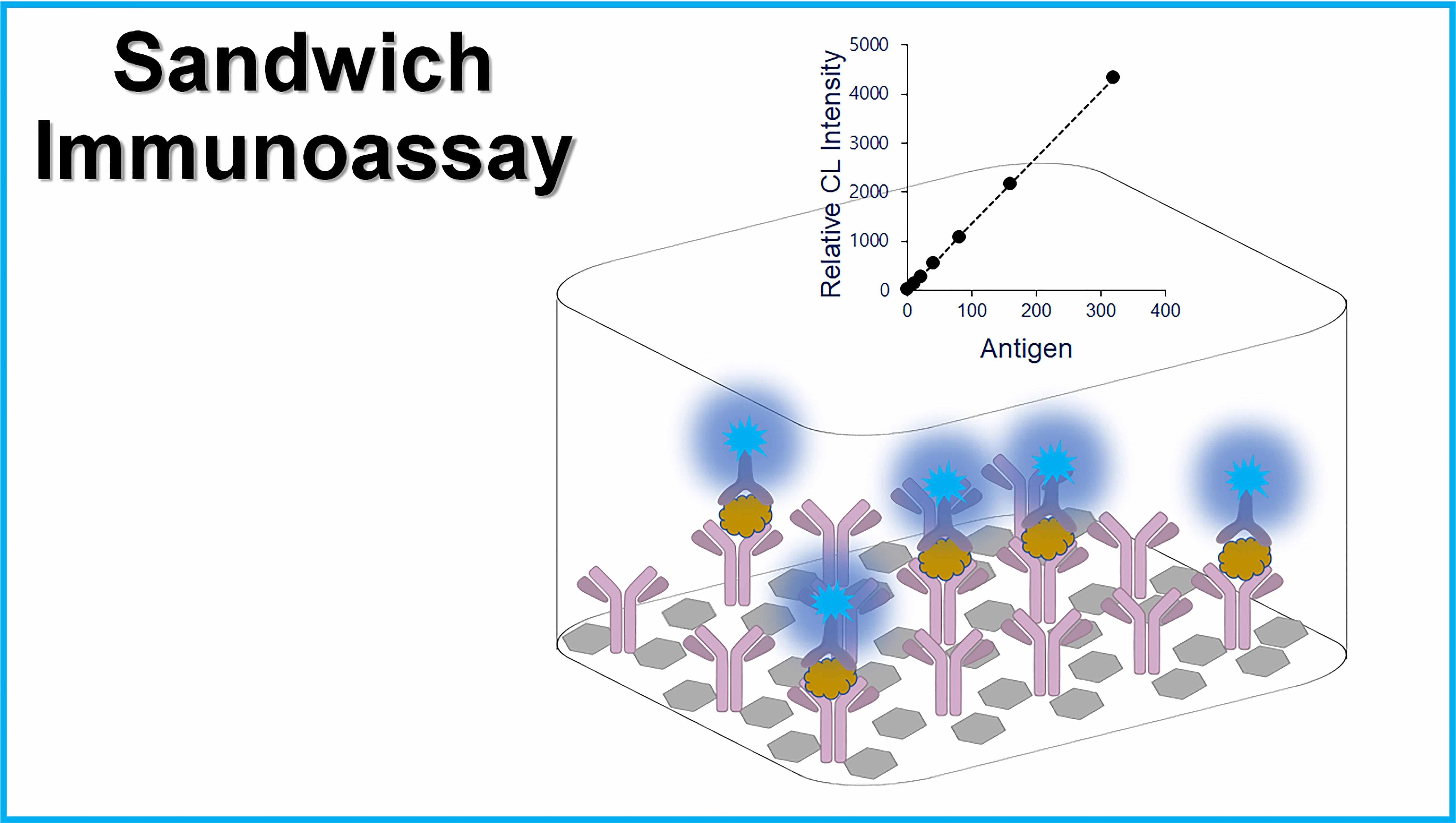 Video 1
Sandwich immunoassay with a chemiluminescence detection.
A sandwich immunoassay that uses two types of antibodies, each capable of binding with a distinct epitope of the target antigen, exhibits strong selectivity.
Compared to All-in-One Immunoassay and competitive immunoassay, the sandwich immunoassay typically requires a longer assay time. This is because:
The initial incubation period for the immunoreaction between a capture antibody, anchored on either a magnetic bead or polystyrene surface, and a target antigen is notably lengthy.

The subsequent incubation duration for the immunoreaction between a label-conjugated detection antibody and the target antigen, already bound to the capture antibody, is also significantly prolonged.

As shown in

Video 1

, Following the completion of each immunoreaction, the diagnostic kit necessitates multiple washes.
The sandwich immunoassay is better suited for the analysis of relatively large antigens, such as proteins and cells, due to the availability of multiple antibodies capable of binding to different epitopes on the large antigen. In contrast, the All-in-One Immunoassay can detect antigens of any size present in a human sample, making it more versatile in terms of application compared to the sandwich immunoassay.
In addition, the sensitivity of a sandwich immunoassay performed on a solid surface is comparable to that of the All-in-One Immunoassay conducted in a liquid solution.
Vid. 2
Sandwich immunoassay with a chemiluminescence detection.
As demonstrated in
Video 2
, the competitive immunoassay employs a capture antibody and surplus luminescent probe-labeled antigens that are synthetically generated.
The competitive immunoassay is frequently utilized when theconcentration of target antigen within a sample is too low to be detected using a suitable detection antibody conjugated with a signal-generating label, such as chemiluminescence, colorimetry, electrochemiluminescence, electrochemistry, fluorescence, or radioactivity.
The competitive immunoassay is less sensitive than the All-in-One Immunoassay since the latter can detect small molecules that are also detectable and measurable by the former.
The relative intensity of chemiluminescence (CL) decreases exponentially with an increase in the concentration of the target antigen in the sample. Consequently, the detection range of the calibration curve for the competitive immunoassay is not as broad as those of the All-in-One and sandwich immunoassays.
Video 2
demonstrates that the competitive immunoassay cannot quantify trace levels of antigens in a sample, as the relative intensity of chemiluminescence is statistically indistinguishable in the presence and absence of trace antigens. Conversely, the All-in-One Immunoassay exhibits a proportional improvement in relative chemiluminescence intensity with an increase in antigen concentration, as shown in
Fig. 1
. For instance, using acridinium ester chemiluminescence detection, the All-in-One Immunoassay can detect trace levels of thyroxine (T4) in human serum samples in under 30 minutes, with signal-to-background ratios that are statistically acceptable.